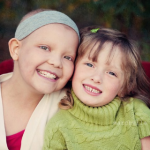 We need to make a list of CONFIRMED teams. If you have committed to forming a team, please complete your registration form and send it to the address on the form.  
The first 5 teams to sign up will receive  
$50 off the registration fee! 
We have 2 confirmed and more coming! Hurry!!!  
www.maeciandgracie.com Maeci & Gracie's
"GIVE BACK A WISH"
1st Annual Softball Tournament
May 14th – 8:00 AM
Avon Softball Park 
ATTENTION SOFTBALL PLAYERS!! Maeci and Gracie met in May 2010 during chemo at Riley Children's Hospital. Maeci (11) was diagnosed in April 2010 with Hodgkin's Lymphoma and Gracie (4) was diagnosed in February 2010 with Oligoastrocytoma, a brain tumor. Since then they have become best friends, more like sisters. We were blessed to meet each other and our families have grown close. We were also blessed by Make-A-Wish to travel to Disney World together in November 2010. Maeci's wish was granted and Gracie decided that she wanted to join Maeci. Make-A-Wish of Indiana made it happen! We had a wonderful time and we want to "Give Back" and help grant the wish of another very deserving child. We would love for all of you, your family and friends to be a part of making that happen.  
The date has been set, so get your teams together, click on www.maeciandgracie.com and complete your form, send $200 per team to the address on the form. You don't have to play to be a part of helping us, help our girls, to "GIVE BACK"! It's going to be a fun day!  
We are looking for companies who would like to be a sponsor or give donations for a raffle. If anyone would like to make a theme basket to be raffled, that would be great. 100% of the proceeds will go to Make-A-Wish and will grant the wish of the child we sponsor.  
We are very excited about giving back! Our goal will be $6000 which is what it takes to grant a child's wish.  Thank you!!!