Maeci's Walk of Faith began April 19, 2010.  Maeci had not been feeling well for quite some time. She was very anxious and was struggling with it at school.  She was itching around her feet and ankles, which we thought were hives due to her anxiety.  The itching was out of control and she would be in tears.  She also had several night sweats but we decided she was just warm under the covers.  I get hot at night too, so I didn't think too much about it.   I took her to see her Pediatrician before we left for our Spring break vacation thinking she had a cold.  She had been coughing, no fever but just not feeling well.  They diagnosed a slight ear infection and prescribed an antibiotic.  No big deal.  We headed out on our trip.  Maeci was pale and just not herself the entire week. We finished out the week and headed home and went back to the doctor.  This time, when he felt her lymphnodes, he decided he didn't like the way they felt.  He didn't want to scare me but wanted us to take her to see a Riley Childrens Hospital surgeon.  Not scare me??  My heart sank.  I made the appointment and were scheduled for a couple of days later.  When the day came, I could hardly stand it.  I was a nervous wreck.  This doctor felt the lymphodes in her neck and proceeded to give her a full exam where upon he found another swollen node in her groin area.
By this time I was almost sick but holding it in because I didn't want to scare Maeci.  He even had me feel the node.  After the exam he gave us two choices.  Since she had been sick with an ear infection, we could try another antibiotic.  I even questioned him and asked "Would you wait if it were your child?"  He said, "Yes, I wouldn't put her through an unneccessary biopsy until we try another antibiotic."  So, we said, "Ok."  Three days into taking the new medicine, I just knew something wasn't right yet.  I called Jay at work and said, "As much as we hate this, I think Maeci needs a biopsy."  It killed me to say it, but I just knew that it was something we had to do. Three days later, our world fell apart. I got the call while I was at work that Maeci had Hodgkin's Lymphoma.  What???  Cancer???  Why??? I cried all the way home from work as I made phone calls.  I had to go home and we had to tell Maeci.  Then we had to talk to our son Jacob.  He took it very hard.  I asked myself over and over, "How am I going to do this?" But we did.  Jay and I told Maeci together.  She didn't cry as we explained to her what was wrong and what the plan would be.  She is something else.  She told me, "Mom, God will take care of me."  From then on, our family motto was and still is, "God's Got It". 
And the journey began..Diagnosis was Monday, April 19, 2010.  We were scheduled for a full week of tests at Riley Hospital for Children starting the very next day.  It was a whirlwind week and so much information to take in. Tuesday was a full day of testing, Wednesday was port placement surgery and Thursday, PET scan. Friday we found out she was in Stage 4. 
We were in shock.  Stage 4?  All the symptoms, the night sweats, the  itching are all part of Hodgkins.  Thank God, I took her back to the doctor and we chose to do the biopsy. 
Chemo started the very next week.  Her treatment plan was intense.  Three days one week, one the next and so on. There were several hospital stays and some very scary moments.  The worst was a three week stay at Riley Hospital.  Maeci had her 3rd treatment but got very sick.  She had three blood infections, two bowel infections, a critically low platelet count of under 7,000 and she had to have a chest tube because her left lung was completely full and it was causing her to struggle to breathe.  It was the longest three weeks of our life.  The doctors and nurses took excellent care of her and she continued to improve.  We all had faith that God would get us through this.  Maeci was and is a very strong girl.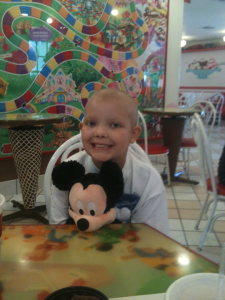 As each treatment continued, she seemed to tolerate it better.  Finally, in August she was scheduled for a scan.  The scan was clear!!  Praise God. Three more treatments to go!  These last treatments were only every other week. November came and Maeci's Make-A-Wish was granted! We were able to travel to Disney World.  We had so much fun.  And to top it off, the Bennetts were able to go with us.  Yay!  What an amazing vacation we all had.  A trip of a lifetime, one that we will never forget.  A scan was scheduled for December 28th.  We knew it was going to be ok but there was still some anxiety.  So…we headed to Riley.  What a celebration we had when Sherri Lee (our Nurse Practitioner) opened the door and said "It's all clear!!"  I still cry remembering that day.  Pop, Sheli, Molli, Uncle Mark, Grandma Murphy, Stephanie and Grace where there with us. God healed her.  We have had quite the journey, my sister, Sheli, named it, "Maeci's Walk of Faith".  We have grown along the way and have had so many blessings.  Thank God for my sister for taking this journey with Maeci, Jacob, Jay and I. 
Maeci is healthy, gaining weight and getting stronger daily.  She will continue to have scans every three months for a year or more, then every six months, then every year.  The hard part is over.  Now we continue to pray and we also praise God for all that he has done in her life and ours.