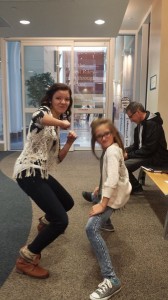 The Maeci & Gracie Give Back "A Fund of HCCF" can only achieve its goals in granting wishes through the Make-A-Wish® Ohio, Kentucky & Indiana with the assistance of generous donations from members of our community. Without these donations, granting wishes to children with life threatening illnesses would not be possible.
Maeci & Gracie met while going through chemotherapy treatment at Riley Children's Hospital in 2010. Maeci was diagnosed with Hodgkins Lymphoma Stage 4 at the age of 10. She is now 16 and in her 5th year of remission! Gracie was diagnosed at the age of 4 with a Stage 2 Oligoastrocytoma brain tumor. She is now 9 with no sign of the tumor! The girls became instant friends, more like sisters. They even traveled on their Wish trips to Disney together. During that trip, the girls and our families mentioned wanting to give back to other kids so that they too could have a wish granted. Now Maeci & Gracie hold two annual softball tournaments to raise funds to grant wishes. To date, we have granted 13 wishes and raised $87,384!

We have 2 huge goals we would like to happen by the end of 2015:
We have since learned of several children in our community who have been diagnosed with a life threatening illness and we would love to make their wishes come true before the end of 2015.
We are working towards raising $100,000 to reach before year end to be inducted in to the Chris Greicius Society (named for the first Wish kid) in the Society of Hope. Maeci & Gracie would be honored in Indiana through Make-A-Wish America.

The Make-A-Wish Request-A-Thon® will be live on Indy's WZPL radio station December 3-4. If you choose to make a donation of $500 or more, we give you and/or your company a shout out live on air! We are counting on your support!
We are $12,616 short of hitting $100,000!!!! $600 for granting the 2nd of 3 wishes! $8600 short of granting ALL 3!!
If you would like to help please make your check out to HCCF with Maeci & Gracie in the memo and mail your check to Hendricks County Community Foundation 6319 E. US Hwy 36 Suite 211. Avon, IN 46123 or go to www.maeciandgraciegiveback.org and go to DONATE NOW and it will take you directly to HCCF!!