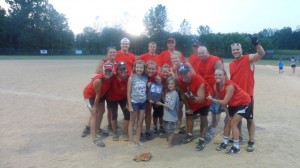 While this tournament is not an easy undertaking it is something we do with a purpose.  To grant Children's Wishes and allow them to get away for a week to some place special.  Since being our wish trips (Maeci & Gracie's) it is important to us for other children to have the same opportunities.  Wish trips are a lot more than your normal vacation.  Even having been myself with Gracie, I find it hard to describe it.  I just know that it takes families away to relax, have fun and to allow them to not worry about about the day-to-day.  Many families are not only dealing with the emotional strain of having a child with a life-threatening illness, but they may also be so financially strapped that a vacation is out of the questions.  I just cannot say enough about Make-a-Wish and what they do for children and their families.  It is a great organization with tons of great people working for them.
As for the tournament, our plans going forward is to continue to improve the tournament and make it a great event.  From my perspective, our 2nd tournament ran much smoother than the first.  We plan to continue to improve and have you all back for the tournament next year.
Thanks everyone for your participating in our 2nd annual Give Back a Wish Tournament.  I hope everyone had a good time this year!  And congratulations to the winner of the tournament Rowdie Robinsons (shown above).
Thanks
Related articles