The top 6 teams from regular game play took a break from 4:30 to 6, then started the finals.  The teams played single elimination tournament all the way down to the final game.  The following 6 Teams made it into the finals: Bowman Boys/Girls, Second Chance, Bailey Dental, Kevin Reid, Ralph & Ava's, Rowdie Robinsons.
Most of the games were very close, but it came down to just two teams.  The Rowdie Robinsons and the Bowman Boys/Girls teams played the final game on Field #2.  We were definately a little taken back by these two teams who made it into the finals as we have ties to both teams.  The Rowdie Robinsons team are relatives of Stephanie, where as Bowman Boys/Girls team consisted of teachers and the principal at Gracie's School.  It didn't make it easy in deciding which team to actually root for.
The final game was very exciting as each of the two teams seemed to make some really tough plays.  While the competition to win between the two teams was evident, both teams had a good time, laughed off mistakes and showed good sportsmanship the entire game.  They really did prove that you can be competitive, fair and still have a good time.  In the end, the Rowdie Robinsons edged out out the Bowman Boys/Girls team to capture the win.
Here is the updated finals bracket all the way up to the last game ….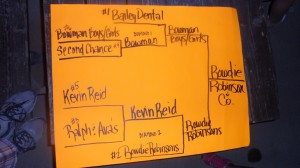 And of course we couldn't let the team get away without taking a photo with Maeci and Gracie.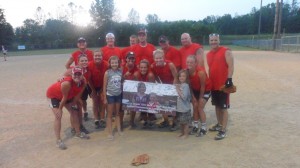 Congratulations to the Rowdie Robinson!