On April 26, 2013, we started our big day of getting the girls and us ready for the big Red Cross event.  The event was held downtown Indy at the elegant Conrad Hotel near the Circle Center Mall.   The schedule was for us to arrive at 11:30 for the rehearsal with lunch to begin at noon.  Before I skip over lunch, it was amazing.  Usually big events, lunch tends to be a little bland, not this one!
Just past noon, Gracie's buddy, Anne Marie Tiernon (with WTHR/Channel 13) came out to do a quick rehearsal with the girls for their interview.  While we knew Anne Marie was going to be there, we did know just how big of a deal the interview was going to be until we went out into the entry way at 12:20.  Yep, we missed an email as the interview with Maeci & Gracie was going to be live!  After a few more dry runs, the interview started.  With all of us behind the camera man it began.  The girls did great!  I was probably more nervous than they were, but here is the complete interview as it went out.
Incidentally, Ann Marie was not actually suppose to do the story that day.  But we are so glad she was able to work it out and make it down.  It meant a lot to the girls and we have the traditional goofy photos Anne Marie and girls are so good at.
After the interview we returned to the event just as the speaking began.  We finished our delicious lunches and watched the other inductees as their videos were played and went up to receive their awards.  As the videos played, Gracie leaned over at one point and said to Stephanie "This is a big deal.  Isn't it?".  At 6 years old, I probably would have had a hard time understanding the significance of the days events as well.  As the girls videos started to play, every started to get a little emotional.  Here is the actual video as played during the event.
The girls received a standing ovation as the held hands walking up and found their way to the right side of the stage.  They shook hands with the presenters and walked back to the table holding their awards.  Here is a picture we took of the girls shortly after receiving their awards and one with the group.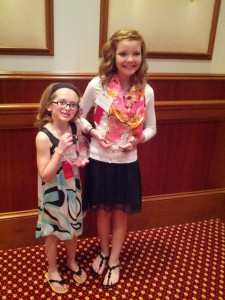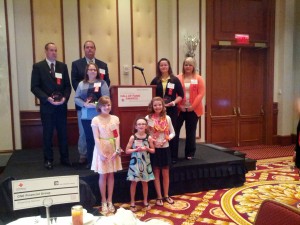 Just as soon as it all began, it was over.  The girls had a great time and I'm sure it will be a day none of us will soon forget.