Please try entering https://graph.facebook.com/772923479405810/photos?fields=source,link,name,images,album&limit=1000 into your URL bar and seeing if the page loads.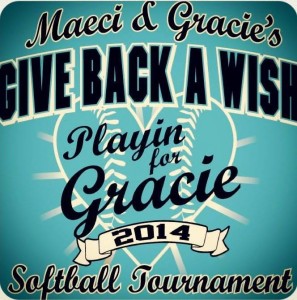 The 4th annual co-ed softball tournament was a big success this year.  Since the tournament was a couple days ago and we are finally able to catch our breath its time to get the results posted.  This year we did things slightly different than previous years.  The teams playing in the tournament were split into two divisions, recreational and competitive.  We had 12 teams in the competitive division and 10 teams in the recreational division.  Unlike last year, we were able to avoid the bulk of the rain and play on relatively dry fields!  Unfortunately, it didn't mean we could completely avoid the injuries.
As in previous years, we did have a silent auction with a wide range of items from rides in the 2 seater Indy Car to hitting lessons.  Unfortunately, we had an unknown personal emergency with our tshirt company which meant we didn't have shirts to sell at the event.  Nonetheless, you can still purchase the shirts by going to Home Town Apparel.
As for the results of the tournament, the LDL42 team brought home the title in the recreational division.
Our competitive division championship game came down to two teams the Rowdy Robinson and the Avon Softball Club.  Rowdy Robinson team had a pretty big target on their back this year trying to pull out the win 3 years in a row.  In the end the Avon Softball Club (as shown below) took the championship for this year, but I'm sure the Rowdy Robinson's are going to be gunning for it again next year.
After the games were over and the money was counted, we granted our 10th wish to Joshual Nail!  We would like to thank everyone who came out this year and support this event!
Photos!  This year as in previous years Kaleidoscope Eyes was there to take photos for us.  Here is the full album of photos from this year.
Facebook API came back with a faulty result. You may be accessing an album you do not have permissions to access.